Welcome to the Winnipeg Digital Repeater Group -
DMR information page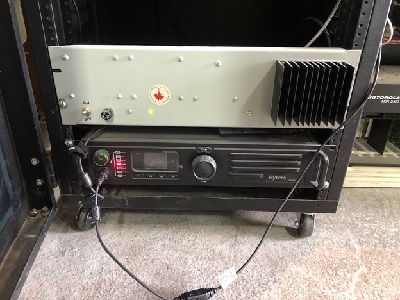 After a successful fund-raising drive the Winnipeg Digital Repeater Group purchased a Hytera RD-982 DMR repeater and installed it at 601 Osborne Street. The repeater has excellent coverage area well outside of the City of Winnipeg.
Please join the Winnipeg Digital Repeater Group and enjoy noise free communications with cutting edge DMR digital voice!
Our group recomments that new members contact us prior to purchasing a DMR radio.
The DMR repeater is linked into BrandMeister Canada server. We have set up a static talk group on Time Slot 1 - 3024 Manitoba. We have Static talk group NorthStar (31273) on Time Slot 2. Time Slot 2 can also be used as a local repeater and is set up as Local 2 – ID 9. Time Slot 2 can also be used dynamically to bring up other talk groups from around the world. We also host various nets throughout the week.
Please remember to keep TS 1 only for Manitoba 3024. TS 2 can be used for linking etc...
The repeater identification is VE4DMR with a frequency of 443.675+ using color code 4.
The Winnipeg Digital Repeater Group Inc expanded and after a successful fundraiser installed a DMR repeater in Selkirk, Manitoba, July 2021. The Call sign is VE4DMS with a frequency of 443.725+ using color code 4.

We expanded our DMR system with the installation of a new DMR repeater in Portage Pa Prairie! VE4DMP, with a frequency of 444.800+ and color code 4, went on the air in early October 2021 thanks to the generous donations and hard work that made this happen.

Stay tuned for our next DMR project!

Thank You for your support!
Should you wish to further support the DMR Project with a donation your contribution would be appreciated.
If you require help with code plugs please contact ve4wdr@gmail.com and one of our members will be in contact.
Affiliated DMR Repeaters in Manitoba
VE4UHF DMR Repeater in Blumenort hosted by Rob VE4CA
Frequency 444.650+ Color code 4.

More info can be found at RepeaterBook.com
What is DMR?

Digital Mobile Radio (DMR) is a land-mobile radio network standard developed by the European Telecommunications Standards Institute (ETSI).
DMR uses Time Division Multiple Access (TDMA) to provide two 30 ms "slots" per 12.5 kHz radio channel.
Each slot can carry independent voice conversations – this means that each DMR repeater provides two simultaneous voice channels – illustrated in the diagrams below: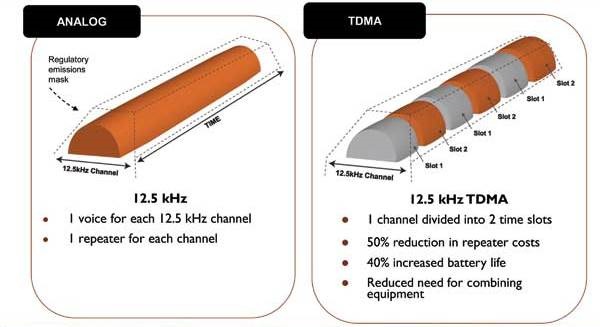 Each slot can also have an almost unlimited number of "talk groups", which effectively function as discrete channels within that slot. Users on one talk group will not hear those on another. I like to think of Talk Groups as "Conversation Labels or Tags". When the label or "Talk-Group" matches what your radio is programmed to receive, you hear this conversation. Anyone else doesn't.
DMR provides better noise rejection and weak signal performance than analogue systems by using advanced Forward Error Correction (FEC) and codecs to remove noise and reconstruct signals that would otherwise be lost – depicted in the following diagram: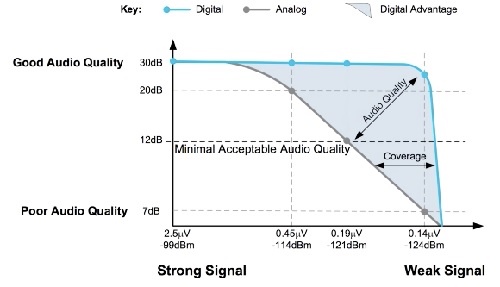 There are many advantages in using DMR over analog and other digital modes. It's cutting edge and is the same codec used in P25 Phase II Public Safety Systems around the world. Linking is as easy as connecting a LAN cable to the repeater for worldwide communications.

Please consider joining the Winnipeg Digital Repeater Group membership if you plan on using the DMR repeater. Owning and operating a repeater takes money and time. To Join - Click Here
VE4DMR Coverage area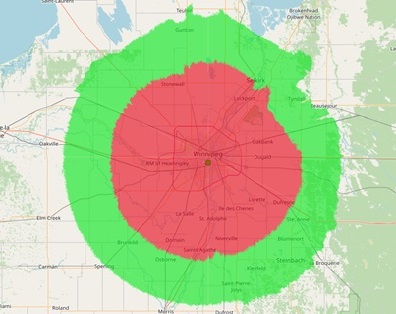 Check out the Amateur Radio Guide to DMR 2nd Edition - Click Here